With all of the social media options out there, business owners are often confused on what to use, how to use it and how often.
Who has time to sit on the computer posting updates from site to site?  I know I don't.  I have work to do!
So you want to make the most you can out of every online effort.  The report I wrote, "10 Steps to Success with WordPress" covers just that.  How to make the most out of the content that you publish on your site.  You can download the report for free here.
If you're more of a visual person, I've recorded a short video with step by step instructions on how to connect your site to automatically publish on your LinkedIn profile, which is one of the recommendations in the report.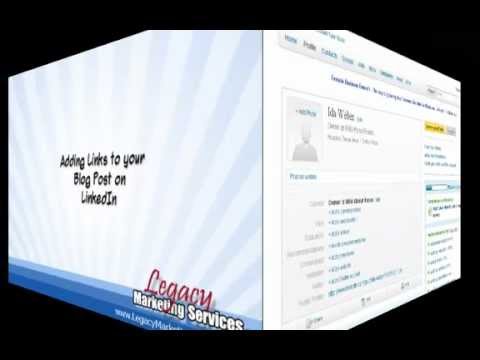 To recap, it is just two steps:
Add the web site url to your LinkedIn profile.
Add the Bloglink application to your LinkedIn profile.
In order for this to work, the url that you enter has to have an RSS feed that is autodetected by browsers and feed readers.
A word of warning:  If you add this application, Bloglink will publish
everything
 on the RSS feed that is discovered at that url.  So
make sure
 that what shows on the RSS feed is what you want displayed on your
LinkedIn profile
.
The concept behind this is to publish once, but to promote in multiple places.  If you want to learn more easy ways to promote your content, business, and web site, download my free report, "
10 Steps to Success with WordPress
."